In Zelda: Tears of the Kingdom, the Hyrule map consists of three complete Worlds: the Hyrule Surface, Sky, and Depths. While Shrines in Zelda: TotK help to explore the Surface as well as the Skies, the massive underground Depths are accessible only by going through Chasms. Naydra Snowfield Chasm in Zelda Tears of the Kingdom is one of the four Chasms found in the Lanayru Region.
This guide includes all the information about finding Naydra Snowfield Chasm and exploring beyond its limits in Zelda: TotK.
Zelda Tears of the Kingdom Naydra Snowfield Chasm location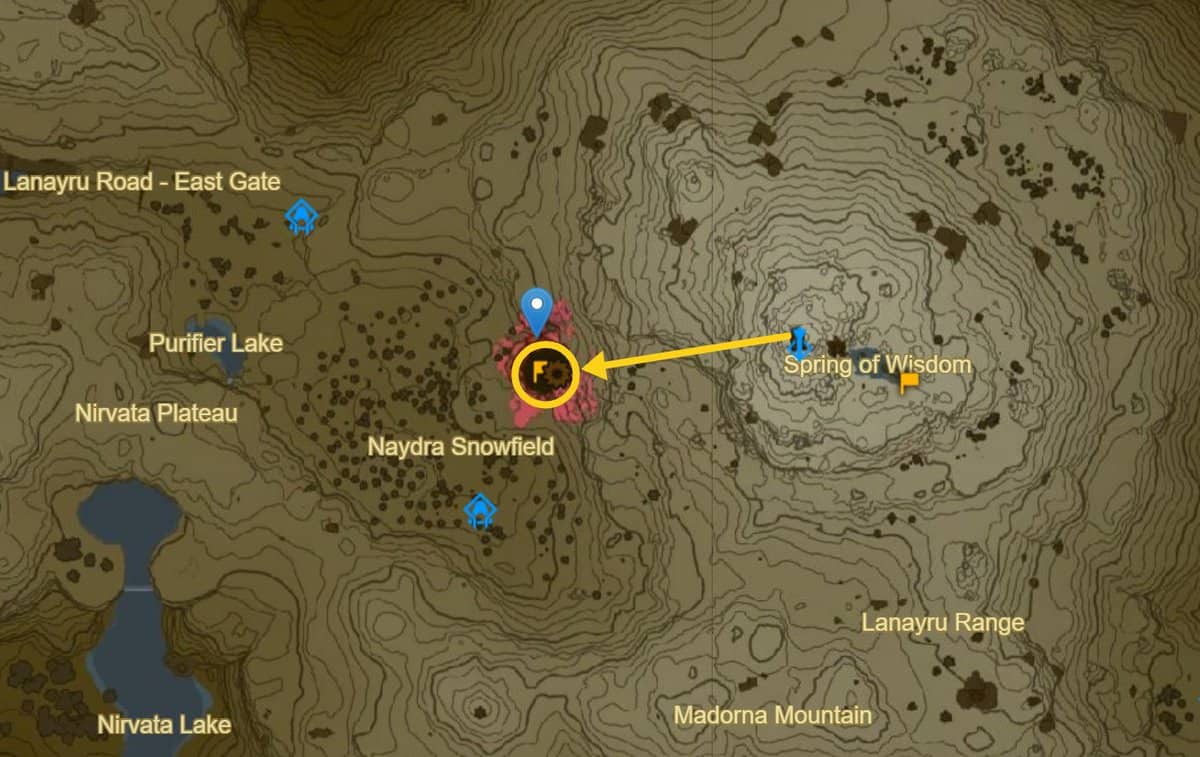 The Naydra Snowfield Chasm is situated in Naydra Snowfields, on the outskirts of the Great Mount Lanayru. It can be spotted between Spring of Wisdom and Purifier Lake. The coordinates (3605, -1344, 0118) will take players to the exact position of this huge Chasm.
How to get to Naydra Snowfield Chasm in Zelda: TotK
The first way to get to Naydra Snowfield Chasm is by means of the nearest sky view tower. In this case, it is Mount Lanayru Skyview Tower, situated in the middle of Mount Lanaryu. Go to the tower and launch yourself up in the sky by standing on the floor button. Deploy your paraglider to glide toward the west to reach the Chasm in a few seconds of floating in the air.
There is another even faster way to approach this Chasm. The Zakusu Shrine is quite a few steps away, slightly south of its position. Simply use the fast-travel feature on this shrine to get to the Chasm.
Activities in Naydra Snowfield Chasm
The Naydra Snowfield Chasm is the old dwelling place of the Great Dragon Naydra, since BoTW. In Zelda: TotK, the Naydra dragon pops out from this chasm and then completes its circle by going around Mount Lanayru before going back to the Depths through the East Hill Chasm.
Players who want to farm Naydra Dragon's Claw for completing a side quest can easily fly from the closest Skyview Tower and get access to the dragon.
Naydra Snowfield Chasm also gives way to reach the Usukaz Lightroot, which is one of the light sources in the Depths. Without these lightning sources, it may become nearly impossible to do anything underground due to the pitch-black environment.
There is also a chance for you to encounter Flux Construct II as soon as you set foot in the Depths after jumping from the surface of the Chasm. Make sure to keep powerful weapons like Mighty Construct Bow and materials like Fire Fruit and Shock Fruit to take their help in defeating this formidable enemy.
Moving ahead, you can also proceed to engage Bokoblin boss and defeat him to receive Zonaite material and Bokoblin Fangs.