Ganos Shrine is one of the Sky region shrine locations in Zelda Tears of the Kingdom. This shrine only appears after completing a particular crystal shrine quest. Ganos is among the easily attemptable shrines, given that players sharply utilize their gameplay senses.
This guide will help players uncover this Shrine of Light and proceed to the next missions in Zelda: TotK.
Where to find the Ganos Shrine in Zelda: TotK
The highest you can get in the sky near Ganos shrine is by going to Gerudo Highlands Skyview Tower (surface). After you jump using the circular platform in the tower, head north from the top to start gliding toward the islands in this region.
Continue gliding until the first island in Tears of the Kingdom North Gerudo Sky Archipelago comes your way. Land on the left side of the island to approach the flying platform in Zelda TotK. Our main priority here is to achieve as much height as possible.
So, attach the two rockets on the platform upwards. Attach the second rocket only when the former vanishes away. When you are at par with the giant rock ball island ahead, jump from the platform to reach the ball.
Walk on the circular surface to reach the other end and jump to the next air path. This time you will finally get Tabantha Sky Archipelago's first island in Zelda TotK, our destination.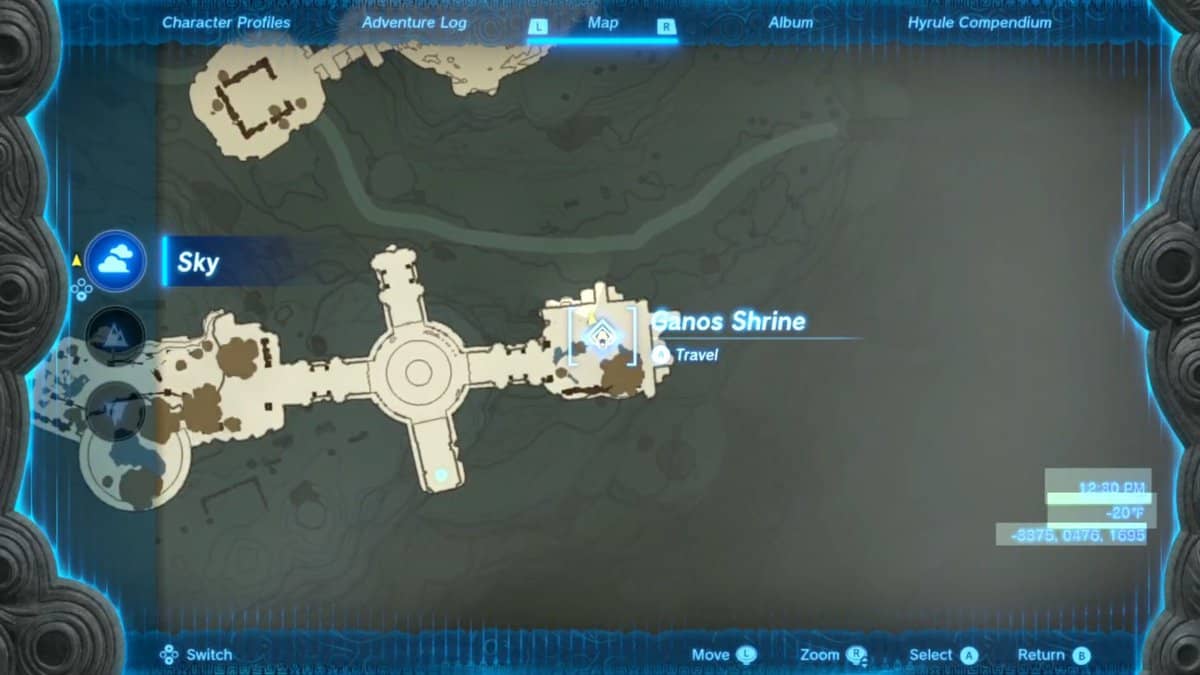 Coordinates: -3370, 0467, 1709
How to open the Ganos Shrine in Zelda: TotK
After reaching the shrine's island, it will be revealed that the shrine is hidden. The only method to open the shrine is by completing the shrine quest, The Tabantha Sky Crystal. To achieve this quest, you will need abilities like Ultrahand.
Once you successfully get the crystal, take it back to the Ganos shrine entrance in Zelda Tears of the Kingdom. This will make the shrine appear out of thin air, ready to be explored.
After entering the Ganos shrine, you can get a Diamond from the treasure chest. Then, you can receive the blessing from the altar by interacting with it.