Nintendo Switch has been released a few days ago and there are mixed reviews regarding the device. New reports claim that the Nintendo Switch dock outputs 18W to the console and not the full 39W which is being pulled from the wall by the AC adapter.
This means that the Nintendo Switch is only getting a part of the total power that is being pulled from the wall. It should be noted here that the Nintendo Switch dock is still being sold separately and if you look below the dock you will find this information there.
Keeping this information in mind, this could be the reason why the 4310mAh battery takes about 3 hours to charge when it is completely drained. If you were wondering why this information is important then the reason why I found this interesting is that you will only need an 18W external battery in order to charge the device.
Also see: Nintendo Switch US Sales for the Weekend Best in Nintendo History
If you are a person that is always on the move then you will find that the device loses charge very quickly and in that case you will need a battery bank of some kind and this information will come in handy there.
You can find the charging times in the image below so you have a better idea about how long it takes to charge the device. If you turn down the brightness and other settings then Zelda: Breath of the Wild can be played for 3 hours, 17 minutes.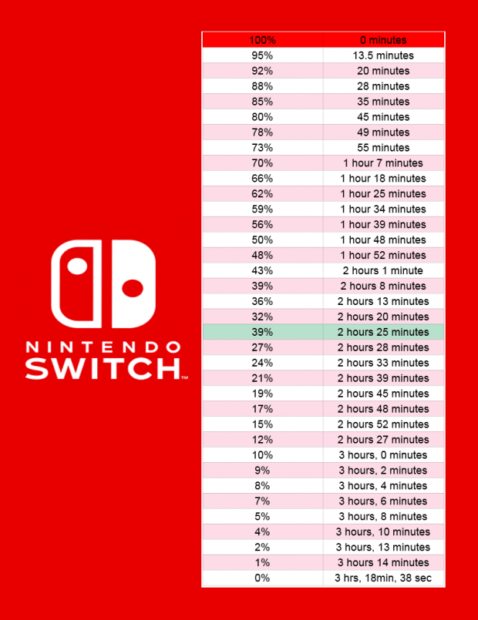 The dock is not more than a piece of plastic and there are users that are complaining that using the dock results in scratches on the Nintendo Switch screen. It is disappointing to know what there is no protective layer to safeguard the screen. You will need a protector in order to save the screen from damage.
Let us know what you think about the Nintendo Switch and whether or not you find this information useful.