In Hogwarts Legacy, players will get the opportunity to talk to Ollivander during the Welcome to Hogsmeade main quest. This is where you will finally be able to purchase a wand and get access to all of the wand customization options in the game.
Before choosing and customizing your wand, do remember that wand customization just changes the appearance of the wand and has nothing to do with the spell-casting ability or anything else.
How to get a wand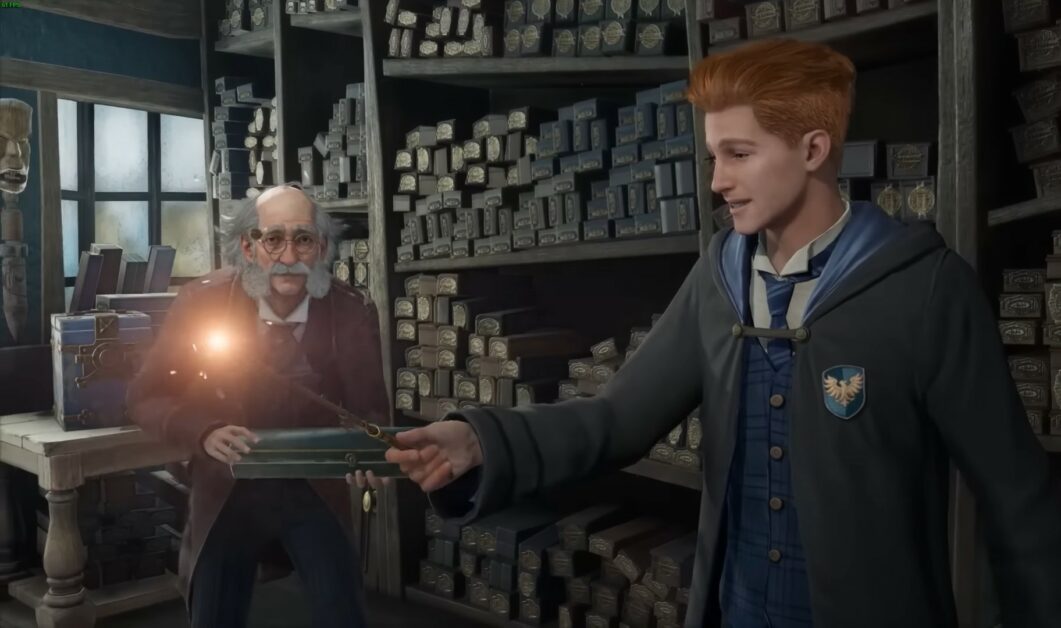 You start Hogwarts Legacy with a wand but it will not be your own. The game does not allow you to customize your borrowed wand. Hence, if you want a wand that is fully tailored to your requirements, you need to first get yourself a wand.
Your wand selection time will come when you visit Hogsmeade for the first time. Head over to Ollivanders, the famous wand shop. Here you can select and customize your wand to your liking and all this happens during the 'Welcome to Hogsmeade' quest.   
How to customize your Hogwarts Legacy wand
While players are doing the questline, they eventually will end up building their own wand from scratch. Players will have to choose wisely on what materials they will use since these are the primary materials for their wand that will affect the appearance of the wand.
If you don't want to craft your own wand and are interested in seeing what the game picks for you, you can take the Wand quiz over at Wizarding World. Answer the quiz and you will be assigned a wand (you can also customize that later).
Once you have been assigned a wand and your Hogwarts Huse according to the quiz, link your Hogwarts Legacy account. Now when you reach Olivander's you will be given the wand you unlocked on the website. However, if you wish to craft your own at this stage, that option still exists.
Wand core
There are three cores that you can choose from. All three of them are created in relation to a specific magical creature. These include materials from a Dragon, Phoenix, and Unicorn, however, there isn't much difference between the gameplay. Out of the 3 cores, you will select one of them for your wand.
Dragon Heartstring: Core that produces Powerful magic.
Phoenix Feather: Core that has consistent magic.
Unicorn Tail Hair: Core that makes a great range of magic.
Wand Wood type
While selecting a wood type for your Hogwarts Legacy wand is purely cosmetic, this will not affect your wand performance in any way. You can choose from a diverse variety of 38 wood types. These types include:
Acacia
Alder
Apple
Ash
Aspen
Beech
Blackthorn
Black Walnut
Cedar
Cherry
Chestnut
Cypress
Dogwood
Ebony
Elder
Elm
English Oak
Fir
Hawthorn
Hazel
Holly
Hornbeam
Larch
Laurel
Maple
Pear
Pine
Popular
Red Oak
Redwood
Rowan
Silver Lime
Spruce
Sycamore
Vine
Walnut
Willow
Yew
Wand length
Similar to the other aspects, your ability to cast spells will not be affected by the length of your wand in the game. This is for purely aesthetic reasons. In Hogwarts Legacy, your wand can be between 9.5 and 14.5 inches.
Wand flexibility
The flexibility of your wand determines how easily you can flick a spell. This is just for fans of the Harry Potter franchise to feel at home. How rigid or bendy a wand is will have no effect on your game.
Unbending
Swishy
Brittle
Rigid
Solid
Stiff
Whippy
Quite Flexible
Slightly Yielding
Faily Bendy
Quite Bendy
Wand style
Just like wand flexibility, the style of your wand is also purely cosmetic. With no real changes in performance, wand styles can be customized to make your wand look similar to your favorite character's wand from the original series, or just to let you get creative while constructing your own wand.
These wand styles come with their color types, as given below.
Spiral: Ash Brown, Green-Grey, Dark Brown
Soft Spiral: Light Brown, Black
Stalk: Honey Brown
Classic: Grey, Black
Ringed: Dark Brown
Crooked Spiral: Dark Grey
Notched: Warm Brown
Natural: Grey, Honey Brown, Warm Brown
Stalk: Honey Brown, Dark Brown, Warm Brown
Best Hogwarts Legacy wand build
Wands in Hogwarts Legacy cannot be classified as good or bad because your wand's build has no real effect on its performance. Although, you can recreate your favorite character's wand from the Harry Potter series by customizing your wand according to their wand.  
| Character | Wand Style | Wood Type | Wood Length | Wand Flexibility | Wand Core |
| --- | --- | --- | --- | --- | --- |
| Harry Potter | Classic Grey-Brown | Holly | 11 inches | Supple | Phoenix Feather |
| Hermione Granger | Soft Spiral-Light Brown | Vine | Ten and three-quarter inches | Supple | Dragon Heartstring |
| Ron Weasley | Classic Grey | Willow | 14 inches | Supple | Unicorn Hair |
| Lord Voldemort | Classic Grey | Yew | Thirteen and three-quarter inches | Supple | Phoenix Feather |
Can you change your wand later?
Sadly no, Once you have built your wand by doing the questline, you will be locked with that wand for the rest of the game.
However, as you progress through Hogwarts Legacy, you will unlock multiple wand handles that you can always switch. These handles slightly alter the appearance of your wand but once again are purely cosmetic.
You can earn different wand handles in Hogwarts Legacy for customization through quests, challenges, or even as loot drops.