Defiled Temple is a unique location below Goblin camp, and its puzzle is one of the many puzzles that you will come across in Baldur's Gate 3. This is a moderate-level puzzle making it not that easy or not that hard to solve. Still, if you struggle to solve the puzzle, here is a guide that will help you.
Baldur's Gate 3 Defiled Temple location
After defeating the Goblins in the Goblin Camp, you can go to the Defiled Temple located on the West side of Shattered Sanctum in BG3. The other way to enter the temple is by sneaking and avoiding the bodyguard. The door to the temple will be locked so you have to use your Thieves' Tool to lockpick and enter the Defiled Temple.
BG3 Defiled Temple Moon Puzzle solution
Once you enter the Defiled Temple in BG3, you will find four discs on the ground. On the discs, there will be 12x circular spots, representing some phases of the moon. Four of the Spots are black. These discs can be rotated, and a specific pattern is required to unlock the door to Underdark.
The discs should be rotated in such a way that the black spots are placed on the disc where light from the roof is directed (southern disc). As the Defiled Temple puzzle in BG3 is randomized, the combinations can be different for everyone. In my case the rotations were
4x South Disk
2x West Disk
1x South Disk
3x West Disk
1x South Disk
2x North Disk
2x East Disk
1x South Disk
3x East Disk
After completing the defiled temple puzzle in BG3, the door to Underdark will be opened located upstairs to the Northern Disk.
An alternative method to solve the Defiled Temple puzzle in BG3
There is another way to open the door to the Underdark. However, this method requires a high amount of perception. If you move toward the door, you will notice that there is a lever. One of your party members will perform a perception check. If the perception check is successful, you will see an option to lockpick the door.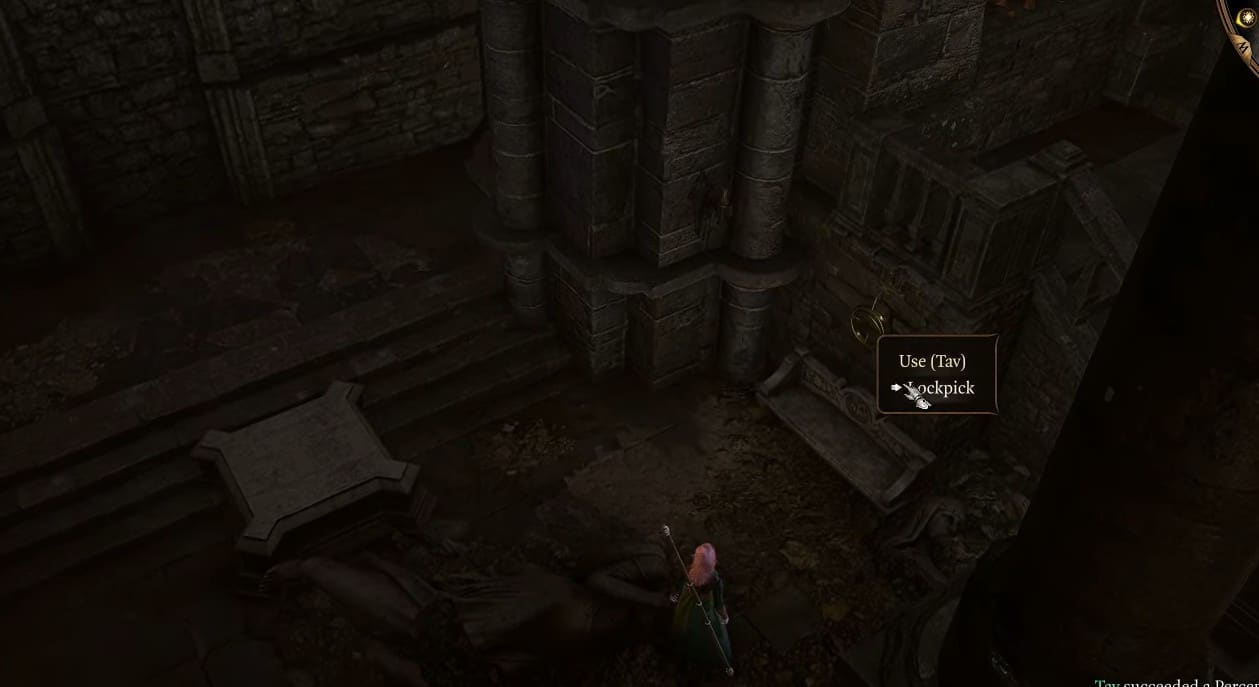 Once you do that, the door will open, and you will be able to go to Underdark.