"Traveler's Prayer" is one of the earliest side quests you get while making your way forward through the starting Fractured Peaks region of Diablo 4.
This is a small but out-of-the-way quest because your sole objective is to pay your respects at a shrine. The quest, however, does not tell you exactly how to pay your respects.
How to start the quest
To start the Traveler's Prayer side quest, you need to head to the town of Yelesna in the Gale Valley region of the Fractured Peaks.
You will find a tavern here by the name of The Hog's Head at the location marked on the map below. The closest waypoint is the Yelesna waypoint and you can use it to fast travel there.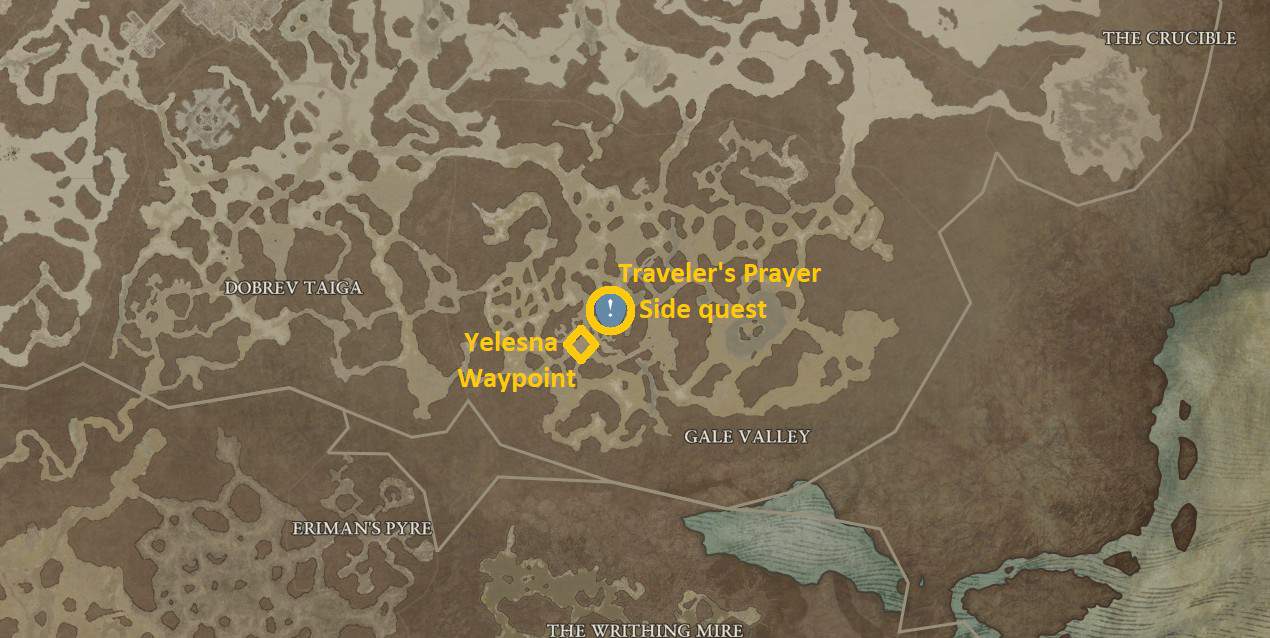 Head inside and look for the Pilgrim's letter laying on the ground. Interact with this letter and the Traveler's Prayer side quest will begin.
How to complete Traveler's Prayer in Diablo 4
To complete this brief quest, you just have to follow the steps mentioned below.
Look for the shrine
As soon as the quest begins after you have interacted with the Pilgrim's letter, your objective will be updated to look for the shrine.
This shrine is located just north of the Hog's Head tavern and will be indicated by a big blue circle on your map. Head towards this shrine while taking down the enemy mobs you find along the way.
Give your thanks
Once you have reached the shrine, you need to pay your respects by choosing the thanks emote. Open your emote wheel and select the Thanks emote which will be somewhere in the top right corner.
Customize your emote wheel (optional)
If you do not have the Thanks emote in your emote wheel, you need to customize it first and add the emote.
To do this, choose the customize option at the bottom of the emote wheel and then look for the Thanks emote. This will add the Thanks option to your emote wheel and you will now be able to pay your thanks to the shrine.
Collect your reward
After you have successfully given your thanks to the shrine, a chest will appear to end the quest and you will be rewarded with:
Renowns
EXP
Weak Crushing Elixir
Weak Acrobatics Elixir