Remnant 2 features many key items, such as Severed Hand, enabling you to complete certain quests in the game. You can use Severed Hand to obtain a ring. Some players find this item gruesome, so they can't guess its value when they see it in their inventory.
After discovering the Severed hand, you can progress through specific sides and main questlines. You will also be able to explore some areas that were previously inaccessible.
Severed Hand location in Remnant 2
To locate Severed Hand in Remnant 2, you must go to the Tiller's Rest in Losomn. You will be in a big area after starting the Man in the Sewers quest. Follow the path forward to reach the Severed Hand. There are many enemies along the way, so tread carefully.
Once you reach there, you will see a cage with a purple glow; shooting at it will cause the Severed Hand to fall on the platform below. You can use the ladder there to get to the platform.
These stairs will take you to the upper level, allowing you to reach the gap. You will face a few enemies along the way, so keep the weapon equipped. After looping, jump down the platform below and collect the Severed Hand.
How to use the Severed Hand
As said, getting on the Severed Hands will allow you to choose one of two rings. You can head inside the inventory and click on the Severed Hand. There you can get either of two rings:
Ring of the Damned: If Grey Health is present, all damage death is buffed by 10% (Grey Health appears on your HP bar right after taking damage).
Strong Arm Band: With the help of Strong Arm Band, you can now throw projectiles at enemies up to 30 meters. It also buffs the effectiveness of combat consumables.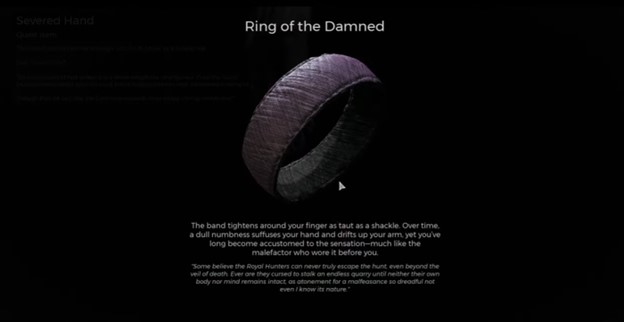 Both rings are the same in appearance but have drastically different effects. Which ring you get is completely randomized for all players. Regardless both rings are worth the hustle.