Red Dead Redemption 2 for PC had a launch with several issues. Fortunately, Rockstar Games has been aware of the situation and they are working to stop that from being a problem. This effort has resulted in some updates for the port. However, the company's work is not over.
Through a statement that they shared on Twitter, Rockstar Games mentioned that in the last week they have been working to correct the problems that negatively impacted the launch of Red Dead Redemption 2 for PC. The result is that they have already released updates for the game and the Rockstar Games Launcher that have corrected some of them.
Unfortunately, the reality is that there are still players who have problems with Red Dead Redemption 2 for PC. Rockstar believes that several of these problems are the fault of an error related to a combination of certain drivers with certain Nvidia graphics cards and some processors. This is why they are already working with Nvidia in search of a solution.
In the statement, Rockstar Games also announced that they will launch a new update for Red Dead Redemption 2 on PC. It is a patch that will solve the problem that prevents the action from looking fluid all the time.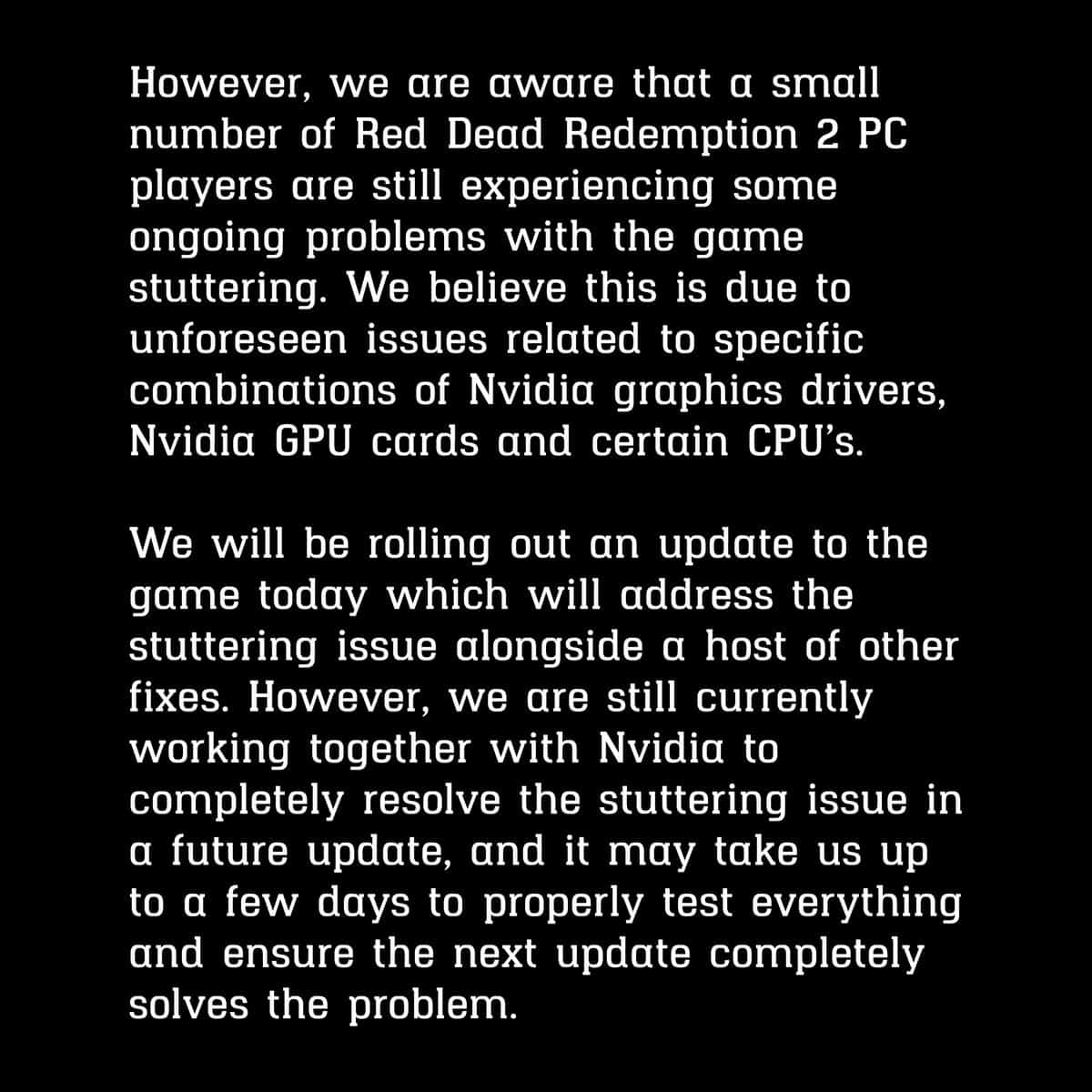 In other news, although Rockstar Games allows mods to exist in their games, the reality is that it does not have a perfect relationship with this type of content. This situation has not changed with Red Dead Redemption 2, so it will lack official support for mods.
In a recent interview with IGN, a Rockstar Games spokesman said he wants to maintain the integrity of Red Dead Online. That said, they also appreciate the enormous creativity and passion players have for their games.
We love the passion that our players have for our games and the creativity that comes with it. Our priority, as always, is to work to preserve the integrity of the Red Dead Online experience and ensure that the community can freely enjoy the space the way it should be.
Does this mean that Rockstar Games will ban mods in Red Dead Redemption 2 for PC? Fortunately not. As you will see, the company said it wants the community to let their creativity fly with their games; However, the intention is that no one can cheat on Red Dead Online.
In other words, everything indicates that it will be the same situation as with Grand Theft Auto V, a game that lacks official support for mods, but can have them in the single-player mode. For their part, those who use mods to cheat in GTA Online will be punished.
I remind you that Red Dead Redemption 2 is available for PS4, Xbox One and PC.