Researchers have uncovered the Gooligan Android malware that has affected more than 1 million Google accounts and counting. The rate at which this is spreading is very dangerous and it is a threat to anyone that uses an Android device, especially,  if it is an older model.
Reports claim that the Gooligan Android malware has been found in 86 applications in third-party app stores and can potentially affect 74% of Android devices.
Also See: Fake Minecraft: Pocket Edition 2 Tops iTunes Charts, Apple Ignores the Scam
Here is what Security firm Check Point Software Technologies says about it:
"After achieving root access, Gooligan downloads a new, malicious module from the [campaign's Command and Control] server and installs it on the infected device. This module injects code into running Google Play or GMS [Google Mobile Services] to mimic user behavior so Gooligan can avoid detection, a technique first seen with the mobile malware HummingBad."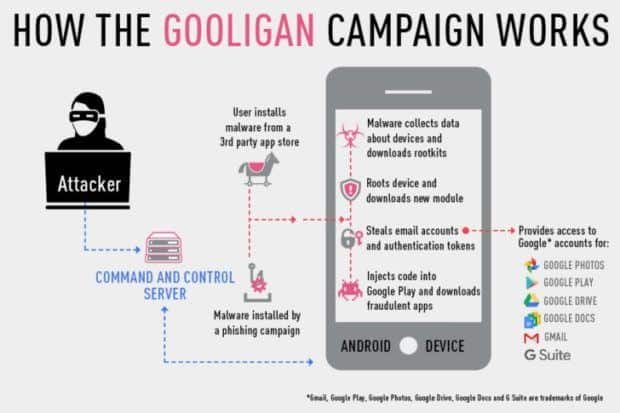 Gooligan Android malware can steal data like Google accounts and authentification information. It downloads apps from the app store and hence hackers are able to make money from fake apps. What is Google doing to stop this from happening you ask? It is as follows:
"revoking affected users' Google Account tokens, providing them with clear instructions to sign back in securely, removing apps related to this issue from affected devices, deploying enduring Verify Apps improvements to protect users from these apps in the future and collaborating with ISPs to eliminate this malware altogether."
A website has been made to check if your device has been compromised or not and you can check it out on the relevant website of the Malware. It would also be a good idea to not use third party apps and using APKs found on the internet until this security threat has been resolved.
Gooligan Android malware is something that can be very harmful so be cautious of what you put on your smartphone. What do you think about the Gooligan Android malware?