PSN user who used a popular Xbox 360 meme won't get his account back, says Sony. According to company reps, the player, Hamed Jalalie, won't get his account reinstated. After multiple requests, Sony keeps rejecting review appeals.
We covered the story back in May and even after community backlash over the matter, Sony remains silent and adamant on not allowing Jalalie access to his account.
In May, Jalalie's account was banned when he had an argument with a salty PS4 player. Jalalie sniped him in Fortnite and got accused of hacking later on PSN chat box. Jalalie made a joke using a popular Xbox 360 meme ""bahahahahaha my dad works at Sony he will get u banned." It was a reference to the following meme from the Xbox 360 days.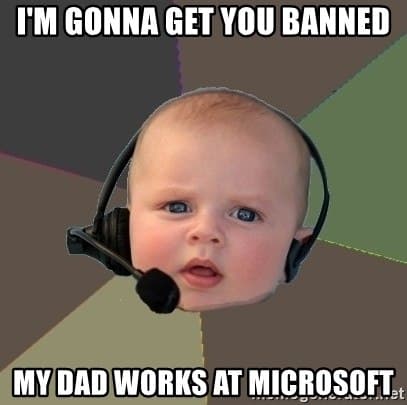 Once he was reported by the other player Sony removed Hamad's comments and banned him.
Sony has a positive reputation in the gaming industry but moves like these won't boost the company's popularity. It seems the success of PS4 is somewhat getting to the heads of Sony execs. This is clear from how they are treating crossplay requests from not only the community but Microsoft and Nintendo as well.
Sony has been evasive when it comes to crossplay, saying they support it on PS4 and PC, claiming it is the pioneer of cross-platform gaming. But the community isn't buying it and competitors are taking jabs and rightfully so, Nintendo is making efforts with third parties to ensure easy implementation of cross-platform play.
Now, perma-banning a player for making a joke, stripping him of his gaming library is unacceptable, harsh, and stupid. Even if saying what he said is against company policy, does the punishment fit the crime? Wasn't a temporary ban enough? These are the questions Sony needs to answer and we will keep asking them until they resolve the issue.