Regardless of its ten years of development time or numerous change in directions, as the fifteenth mainline game of the eminent franchise, judging Final Fantasy XV as a finished game, not only draws comparison from its game contemporaries but also its predecessors that have paved the way for it and marked the gaming world with their legacy.
Set in the world of Eos, Final Fantasy XV gives players the reigns of Prince Noctus as he travels the land with his three companions; Gladious, Ignis and Prompto. As is the case in every Final Fantasy, the four eventually get embroiled in a big conspiracy that threatens the fate of the whole world and battle their way till the end in effort to try to save their world.
While using this time-tested premise to further its story, Final Fantasy XV tries to distance itself from the turn based action of the traditional JRPGs, and fancies its gameplay more in line with open world Action RPGs offering a more direct control over battles that take place in real time.
The game's real time combat mechanic, called Active Cross Battle System, allows players to attack, defend, use magic and items at press of a button, without use of menus and navigating any interface. The player is not only able to dynamically control their character mid-battle but also time his actions to trigger parries, counter attacks and even cooperative attacks with his party members.
This battle system also includes a Link Meter that fills up the more player lands his attacks, leading to opportunities to direct special cooperative moves from his party members that otherwise operate on their own as AI controlled NPCs.
While this real-time battle system certainly provides for fun and dynamic gameplay opportunities, it can also becomes quite button-mash heavy and a confusingly hectic experience; especially due to the camera, which has a tendency to become twitchy and horrendously unwieldy during combat in tight areas.
The game does provide an option to slow things down with a 'Wait' mode that can be activated in game settings; this pauses the game whenever an opponent is highlighted mid-battle, creating a pseudo turn-based environment which allows the player to employ the 'Libra' skill to judge enemies' strengths and weaknesses.
Later in the game the player is able to employ devastatingly overpowered 'Astral Summons' to wreck though enemies. However, the conditions for employing these summons are exceptionally vague and are so specifically obtuse that the mechanic can rarely be employed and, in practice, reliance on it is relegated to Deus Ex Machina-like random opportunity encounter.
Aside from the change to real time combat, Final Fantasy XV follows the basic RPG gameplay loop of doing a story mission to unlock more area, then doing side missions to gain XP and money, using that to level up as well as buy weapons and items, then moving on to the next story mission to further the game.
There are however certain changes/ improvements that the developers of Final Fantasy XV have made to the traditional Final Fantasy formula.
Instead of immediately reaping the rewards of XP gained from completing missions and defeating enemies, the player now has to cash out the experience points they have earned at a rest spot to level up their stats.
There is also a fairly streamlined crafting system that allows players to collect ingredients for culinary dishes that provide temporary boosts to character stats and an addition of new user interface that allows easy access to restorative usable items, without needing to pause and browse menus in between battles.
However, there is one design change that hinders the game rather than improve it. The decision to map the jump action to the same button as the context sensitive selection action was a bad design choice, as it produces situations where the player character is left stupidly jumping when trying to pick up or talk to someone. These emersion breaking actions happen far too often and are cause for perpetual frustration.
For most of the game, players roam the lands of Lucis, that serve as a large overworld, which houses all the locations of interest, ranging from different towns that give quests and bounties as well as dungeons, tombs, fishing spots as well as fields and forests that house this world's various flora and fauna.
Gone are transitions between overworld and dungeons, or even shift between free roaming and a battle encounter sequence that has been the staple of every Final Fantasy game before. The new emphasis on an open world action RPG means that, excluding cutscenes, everything that takes place in Final Fantasy XV is seamless and happens in real time.
This, combined with the game's great draw distance, means that the player no longer has to deal with abrupt random encounters, as each opponent can be seen miles ahead.
Final Fantasy XV employs a threat meter mechanic that grows in intensity as the player gets closer to the enemy. Battle encounter begins when the player gets close enough for the enemy to agro and engage, while players have the freedom to disengage from battle by moving out of the radius of the enemy's agro range.
This is a welcome mechanic that allows player to judge threat at hand and gives the player agency to walk into and away from battle at their leisure. Of course, there are certain dungeon encounters, specifically boss areas, that trap player character in an enclosed area which covers all of the enemy's agro circle and does not allow player to coward away from a fight.
Final Fantasy series is known for world building and for its prowess with creating and presenting a brand-new world with every new instalment. Each game has its own well-conceived universe with clear rules that govern it and new take on world design.
The franchise has always been able to deliver new worlds with fresh takes on elements ranging from fictional history, mythology, legends and lore, to imaginative architectural designs, unique technology, clothing fashion, naming conventions, speech patterns and other cultural nuances.
World of Eos in Final Fantasy XV is no different in this regard. Divided into three continents, Eos is home to different nations with their differing political views and a history of military conflict, as well as mythos regarding pantheon of divine beings that serve as guardians of the natural order.
Unfortunately, all that wonderfully creative lore is woefully underutilized in the game's narrative and its overall world design features a setting that hardly contains any imaginative elements.
Even with its fantastical creatures and use of magic, the overall look and feel of the world presented in Final Fantasy XV is decidedly less fantastical than what is expected from a Final Fantasy game.
Too much of the world of Final Fantasy XV is a reflection of contemporary real world. From architecture of buildings to cars that roam the road, from clothes like t-shirts and jeans worn by NPCs to use of cellphones, selfies and the lingo used in conversations, everything seems to be copied straight from real life and pretty much devoid of any imagination.
Moreover, the continent of Lucis, which acts as the game's overworld, is also bland and one-note. The overworld in Final Fantasy XV is home to bland terrain consisting mostly of dusty plains, rocky hills as well as patches of trees and shrubbery.
There is barely any visual variety discerning the area of Leide, Duscae and Cleigne from each other as the enormous land mass that is the continent of Lucis can easily devolve into a uniform jumble of rocky desert and green forestry.
Combine that with its mundane overworld exploration mechanic and the world starts to feel even larger than it actually is.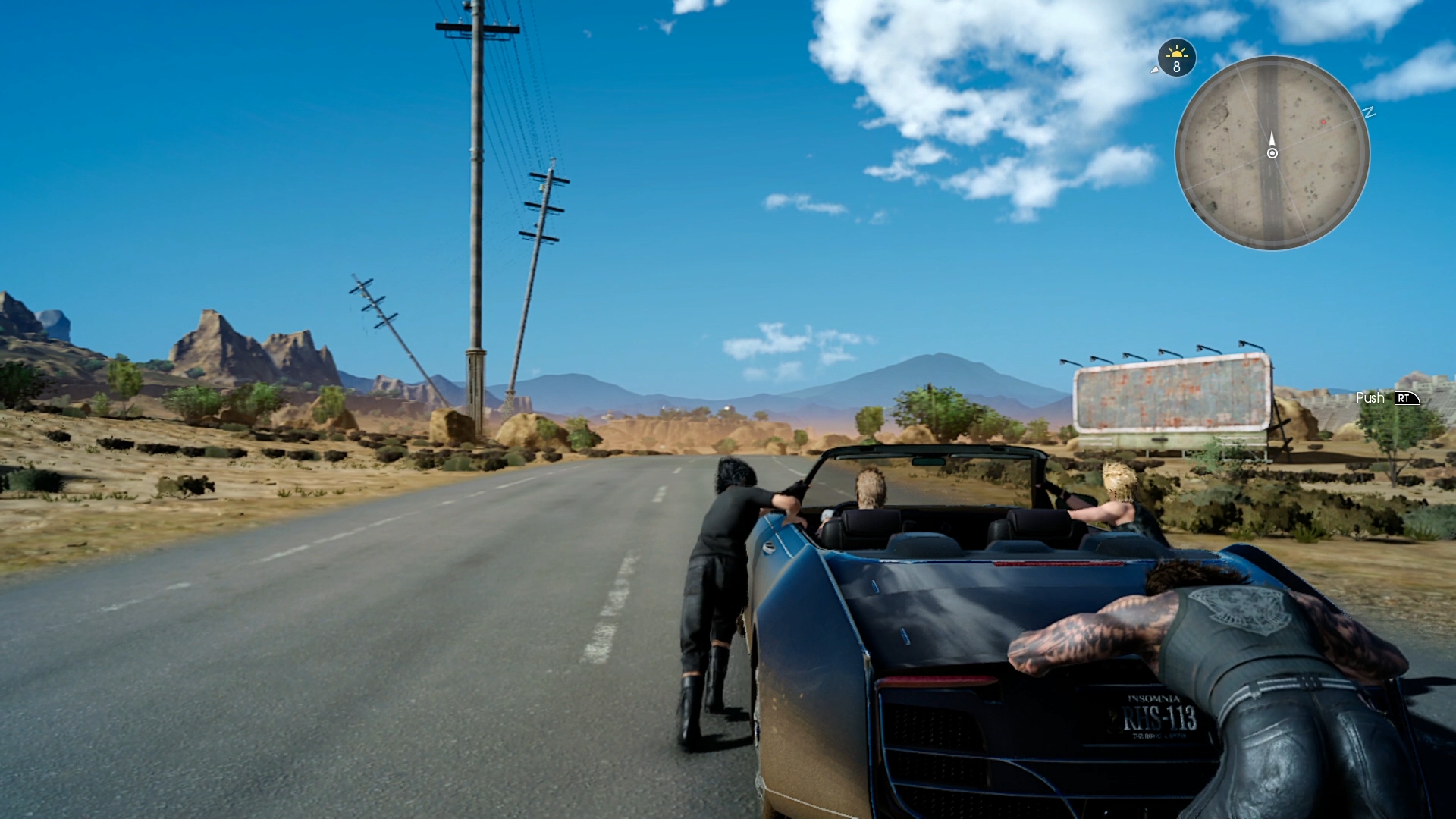 Even though Final Fantasy XV houses a huge open world and rewards player exploration with sidequests, items and collectables, the act of exploring this massive open world map is not fun.
Final Fantasy XV treats its overworld exploration like a road trip. The world here is vast but bland and empty, which begs the players to ditch on-foot exploration and just auto-drive to the location of the next mission marker on the map.
Even if game overworlds are sparsely populated, open world exploration can still be a rewarding experience if the mode of transportation is interesting and fun. Gameplay like riding Epona across Hyrule Fields in Ocarina of Time, or exploring the west on horseback in Red Dead Redemption, has kept many players content even though their openworlds were essentially open expanses of empty plains.
However, the car driving in FFXV comes off very rigid and dull, especially when compared with the standard of dynamic and engaging driving gameplay set by modern open world sandbox games. Even driving the car manually is a very passive, on-rails experience, where player only has enough agency to press accelerator button and press left or right to turn at crossings.
The game alleviates some of these issues by giving player the ability to travel on Chocobos later in the game, however chocobo riding has its own set of limitations and cannot be treated as a total replacement for driving the car.
Despite the bland, one-note environments and the sparsely populated overworld, Final Fantasy XV still manages to look amazing, thanks to the wonderful graphical engine that features great textures as well as wonderful particle and lighting effects.
Speaking of lighting effects, the world of Final Fantasy XV features a real-time day and night cycle, which not only acts as a source for breathtaking vistas but also impacts gameplay in a significant way.
The day/night cycle adds an element of time management to the fray; an additional wrinkle to the traditional overworld exploration, as the game does something similar to Dying Light where more powerful monsters, known as Daemons, emerge in the overworld at night, allowing players to tackle more difficult challenges to earn more experience. A welcome risk versus reward mechanic.
Complimenting the game's visuals is its immaculate sound design which features an orchestral soundtrack that is serenely emotional in some areas, peppy and fun in others and can get rousingly bombastic when it needs to. Moreover, the driving track list contains an immense collection of music including soundtracks of all 14 of the previous Final Fantasy games and even its offshoots like the Dissidia games.
One of the most important element of an RPG is its story. It not only serves as an incentive for player to immerse in the role play and build connection to characters, but also acts as a thread to keep the momentum flowing throughout in the long journey and provides the payoff for overcoming all the gameplay and narrative challenges.
Final Fantasy XV's storytelling fails at each and every one of those elements.
The game's main four characters fall under the typical architypes of; the chosen, the intellectual, the brawn and the jester, and to its credit, the game does a decent job of portraying their personalities and their relationship with each other.
Where it fails, however, is in giving context and motivation for any other character in the game. Aside from the main four characters, each and every NPC is a hollow, one-note character and their background, motivations and relationships are kept as shallow as possible.
Even the character motivations for the game's protagonist are not given context and weight. This ranges from lack of adequate backstory or low focus on establishing important relationships, to a total absence of in-game follow up on important and sometimes dire consequences of story progression.
This lack of context creates low in-game emotional resonance of impactful story elements and further exposes the flaws of the story, harming what is already a fairly weak narrative.
These issues become even more evident in the latter part of the story when the game decides to restrict the player in several ways that only serve to highlight the issues with its storytelling.
Story itself is not bad, in fact it is quite good, but the way it is told is just plain awful. The narrative in Final Fantasy XV suffers from abrupt situations, disjointed story flow, totally horrendous in-game pacing and lack of payoff on questions raised throughout the game.
What makes all of this much worse is that a lot of narrative problems, involving backstory and context issues that plague the game in the start, could have been resolved if Square-Enix had not acted on their misguided ambition of turning Final Fantasy XV into a multi-media franchise instead of a good standalone game.
In an act of pure hubris, Square-Enix decided to act on the hype surrounding its game and milk every drop of goodwill from its fans by portioning-off crucial story elements and character background into a bad CG movie and a sad, under-produced, short anime OVA series.
Even after 10 years of development it is clear that the game's release was rushed, as the finished product lacks a cohesive vision from start till the end. With many of its elements clearly jumbled up, the game comes off as something mashed and stitched together into a Frankenstein's monster.
Despite all these issues, Final Fantasy XV is still a return to form for the franchise, as it is still a much better game than its last single player predecessor; Final Fantasy XIII.
There is a lot to like about Final Fantasy XV; from its dynamic and fluid combat system to its spectacular audio design and beautiful graphics, the game features a lot of gameplay refinements that would appeal to Final Fantasy veterans and newcomers alike.
However, in its quest to entice a new audience, Final Fantasy has revamped itself in the wrong direction; by conforming its aesthetics to that of other genres, it has abandoned the essence of what made the series unique and successful.
Even so, if you are able to look past the enormous wasted potential of its story and world building elements, then Final Fantasy XV has enough content to warrant a purchase, if only to enjoy its great visuals and fun encounters with real-time action gameplay that it has in abundance.
Final Fantasy XV is a great game by a lot of standards, except the high standards of its predecessors and the illustrious franchise it belongs to. From story to gameplay, there are far too many flaws, inconsistencies and areas with lack of polish, that keep it from greatness and ruin the overall experience of playing a quintessential Final Fantasy game.