In this FIFA 19 FUT Guide, we have picked the best FIFA 19 FUT La Liga Squad Builds for you try out. We have outlined 3 squads for you to choose from ranging from a cheap one all the way to one including elite players. Our Starters Squad will cost less than 30k and the Competitive Squad will stay under 100k. Moreover, we have also featured an Elite Squad for a few of us who manage to get their hands on them.
FIFA 19 FUT La Liga Squad Builds
La Liga has been one of the most successful leagues in the world and is an ideal league for Latin American talent. You can attribute the success of Spanish League success to the hard working teams.
They may not enjoy the talent diversity of English Premier League but they do not lack the talent in any form.
While in the Premier League, players' prices are a lot of inflated, it is not the case in La Liga. Therefore, you may be able to get the players with similar stats for a lot fewer prices.
One of the best things about La Liga is you can get many above-average players in cheap and can utilize them in many teams.
In La Liga, you will certainly find better defenders and players with higher defensive capabilities than other leagues because, in the league, teams tend to focus on a solid backline first.
Low Budget Squad Build
Our Budget Squad will act like your Starter Pack to get into things and start building your squad for higher divisions. This squad will cost you less than 30k and you can slowly grind your way to a better squad.
What we like about the squad is the speed on the flanks and a very solid backline. Midfield will have to work a bit harder due to the lack of strength and being not fast enough to cover it.
Overall, the squad is cheap and considerably stronger in price-range when compared to other leagues.
La Liga is the place where you can experiment around with many players due to them being good and cheap. Therefore, if you are starting a team for the first time, Spanish la Liga is highly recommended!
4-3-3 (2) is the formation we recommend using with the squad. With high-pace players on both flanks (LW, RW, LB, RB), you can turn this formation into a very early-game-focused team. You will also have defensive cover in the form of a CDM.
Competitive Squad
La Liga features some high caliber players that you can get for cheap. With the influx of Latin American talent, Spanish squads will be great both in terms of player value and player stats.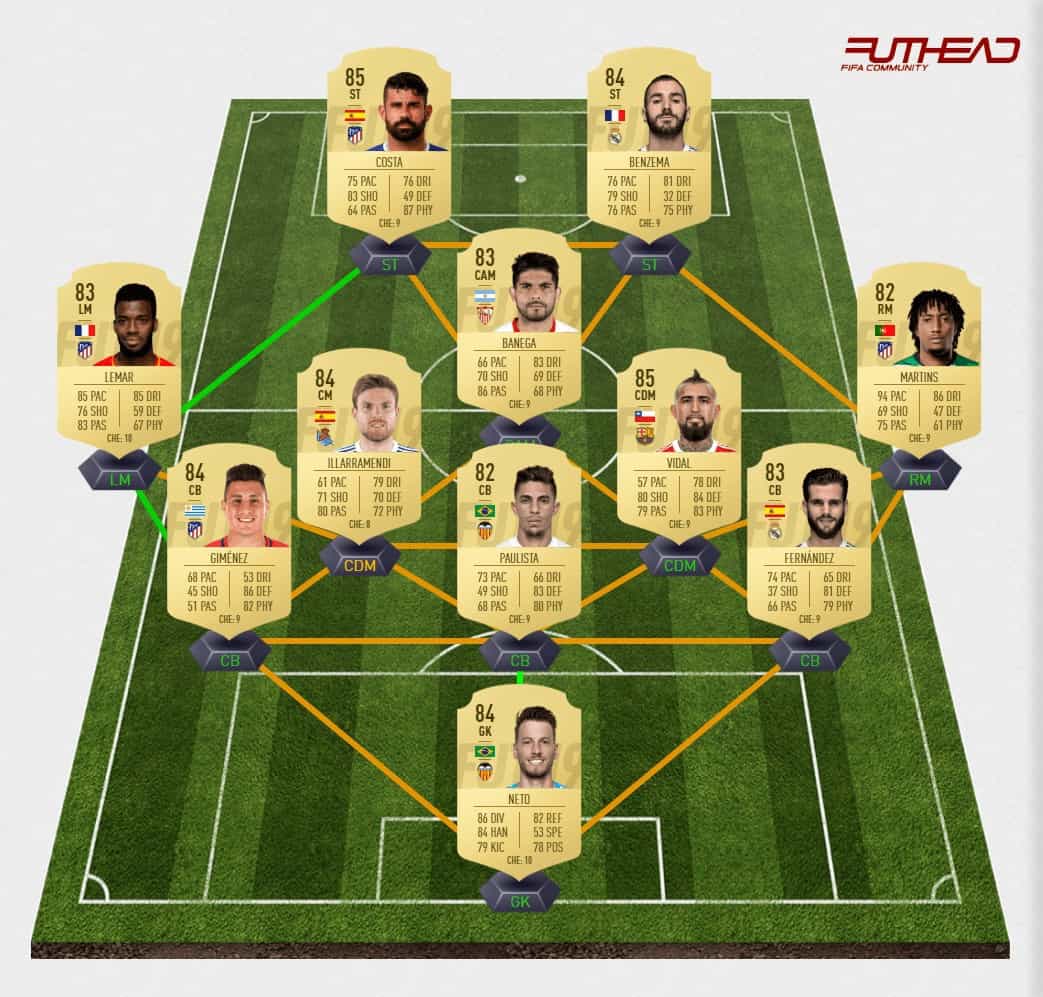 This squad can become a real threat with some decent additions. You may need some changes for higher leagues, especially a better CAM but that should not be hard.
We recommend 3-5-2 due to some great options in both Attack and Midfield. I was also surprised by some of the options being very cheap – speedster on the wings and an overall balanced team.
Striker combo will be interesting; you will want Benzema to work as CF and Costa to work as a Target Man for this to work more efficiently.
Elite Build
This will be Best XI of Spanish La Liga and will be very hard to get because the prices of players will be insane, especially the likes of Messi will be very hard to get.
For this squad, I decided to keep Messi on his favorite position. Madrid's mid trio is irreplaceable in the center. Oblak is
a better goalkeeper
at the moment but the difference is minimal.