Update: There is something that needs to be made clear, and I forgot to mention in the original story. I see many publications calling this GamesTM issue 171. That is incorrect.
The issue number is 169 and was published in December 2015. This further indicates that this is an opinion piece and not a leak.
The issue popped up after a couple of months and FragHero ran with it without confirming details.
The image they posted itself mentioned "N169" at the bottom right.
Original Story: While looking for anything related to the next Call of Duty, I came across a few articles that mention the arrival of Ghosts 2 in November. They are citing a UK Magazine that has apparently leaked the existence of Call of Duty Ghosts 2.
Here is the image (exclusive to SN so please stop stealing it, at least cite if you use it) from the Magazine:
What's obvious here is that the next Cod will release in November so that's no leak but Infinity Ward working on Ghosts 2 is news. While GamesTM is a credible source, I doubt they leaked the game. The article looks more like an opinion piece which features a mix of games that are confirmed and games the author would like to see in 2016 or expects them to release this year.
"What can we expect from the AAA-behemoths in the coming year?"
The same article also mentioned Forza Horizon 3 and strangely no one is paying any attention to it. Isn't that a leak? Has Microsoft already confirmed Forza Horizon 3? Let me know if that is the case.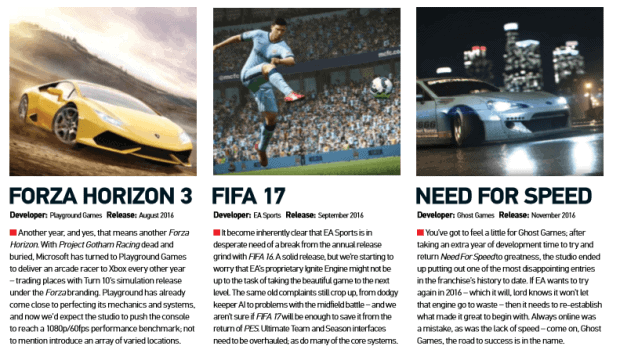 Regarding Forza Horizon 3, the author writes:
Another Year, and Yes, that means another Forza Horizon. With Project Gotham Racing dead and buried, Microsoft has turned to Playground Games to deliver an arcade racer to Xbox every other year – trading places with Turn 10's simulations release under Forza branding. Playground has already come close to perfecting its mechanics and systems, and now we'd expect the studio to push the console to reach 1080p/60fps performance benchmark; not to mention the introduction of an array of varied locations.
If this is not an editorial and is actually leaked information, then congratulations, Forza Horizon 3 is also leaked and confirmed by a credible source.
If the leak is true (which I highly doubt), still, many of us would prefer seeing Modern Warfare over Ghosts 2. Infinity Ward needs to come back with a bang after a mediocre Ghosts in 2013. The game sold well but it isn't the most loved entry in the franchise.