There is no doubt that Battlefield 1 will be the best looking game on the current generation of consoles, and may be this level of visual fidelity is due to the Battlefield 1 Directx 12 support.
According to Digital Foundry's John Linneman, Battlefield 1 will likely support Directx 12. Linneman tweeted this when a fans asked him about what Directx version Battlefield 1 is using.
It is important to mention that Battlefield 1 Directx 12 support is not confirmed by Electronic Arts or DICE, so take it as a grain of salt. But is will certainly be interesting if Battlefield 1 does supports Directx 12, and which will give us the idea of what Directx 12 is capable of.
However, a leaked image has surfaced the internet, which gives us a good look at the aquad selecting screen. The image was probably taken from the ongoing closed alpha of Battlefield 1.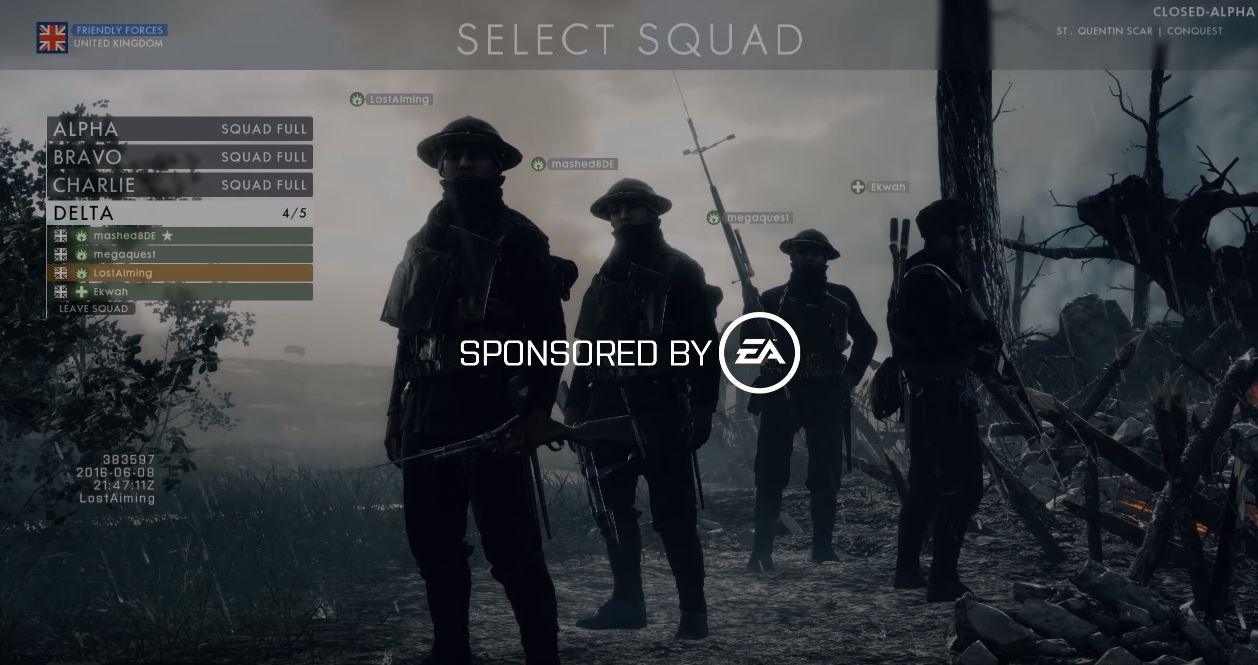 In the previous Battlefield titles the squads are called alpha, bravo, charlie and delta, and they will remain the same in Battlefield 1.
Since the release of Xbox One and PlayStation 4, these machines had a hard time running games at 60 frames per second. Now DICE is also targeting 60 frames per second for Battlefield 1 on Xbox One and PlayStation 4. However, the multiplayer of Battlefield 1 on PC runs at 60 Hz but achieving this on consoles might be difficult.
Till now all the gameplay footage of Battlefield 1 we have seen has been captured from PC, and we are yet to see any console gameplay to determine that how much console version differs from PC.
Also Battlefield 1 will not feature any web launcher, like previous games in the franchise. Dice is also overhauling the UI for Battlefield 4, which will let players to find and join online matches through in-game menu.
This new user interface will be first implemented on Battlefield 4, and after that will be applied to Battlefield Hardline and Battlefield 1.
Battlefield 1 will release on October 21 for PC, Xbox One and PlayStation 4.